Shop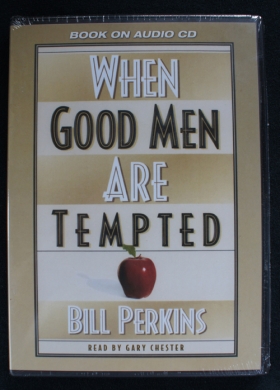 When Good Men Are Tempted Audio (CD)
When Good Men Are Tempted is a must listen for men – 50% of all guys – who desperately struggle with doing sexually stupid things that threaten the very foundations of their lives. Gary Chester narrates this Bill Perkins audio book that God is using to restore men to sexual wellness. It very practically shows how to kick your lust demons in the butt. You'll be able to build a real love-fest relationship with your wife that perhaps never before existed. NO FOOLING! God, through this book's biblical strategy, wants to do this for you.
Price: $17.95 + $4.00 shipping
Accountability Friendships Demonstrated DVD
You've heard about accountable friendships. Now here it is demonstrated. On this DVD, Gary Chester and two friends condense a weekly pow-wow into 25 minutes. These three tight buds demonstrate the dynamics of accountability friendships. Their interactions and immersion with each other's lives bring out God's best in one another as opposed to serving as each other's parole officer.

You might first want to listen to the free audio of the demonstration (Accountability Friendship Demonstrated) along with the supplemental audio, Accountability Friendship Explained. Then you'll be able to decide whether to order a DVD for your guys to watch.
Price: $9.95 + $4.00 shipping
Small Group Bible Study: Book & Study Guide
In this short Bible study, you'll deal with:

*The myth of success that's caught up in stupid, go-it-alone manhood
*The life-long impact from childhood of our fathers on our hearts
*Our inner life's controlling strongholds
*The rekindling of what's been lost in our marriages
*Whether God's personally knowable

In six sessions the study will first guide your church's men through self-assessment (ouch!) and then through specific solutions to our struggles with the mega challenges of life. If they're listening even a little bit, they'll be guaranteed to take away little practical nuggets of how to live life from a Christ viewpoint.
Price: $9.95 + $4.00 shipping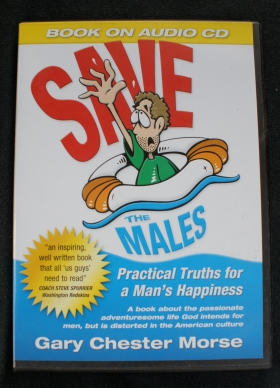 Save The Males Audio Book (CD)
The Save the Males audio book is a catch-it-on-the-fly, shortened version of the Save the Males small group study. As you listen while you drive, God hopefully will give you revelations about your career, marriage, relationship with God, and your father's life-long impact on you. There are some real nuggets of how to practically apply the insights to your everyday life.

PRAISE FOR SAVE THE MALES...
"Gary has done a phenomenal job at putting the cookies on the shelf Where I can reach them. I like the chapters on Fatherhood and Spirituality. This is a must read for every man"
-Dave Ramsey
Price: $9.95 + $4.00 shipping